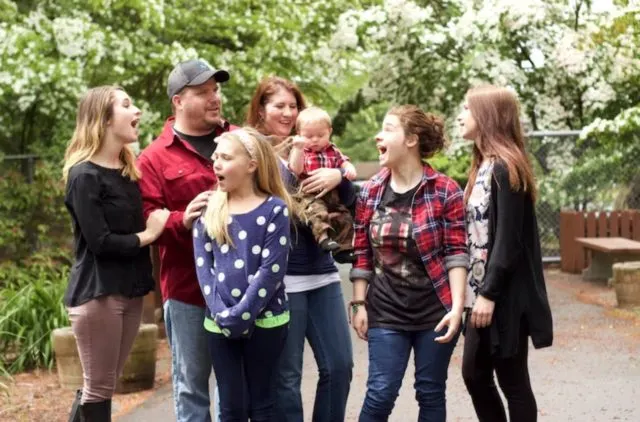 I am a stay at home mom with an incredible husband, 4 beautiful step-daughters, an amazing little boy, and yep – even a grandma to two lovely grand-daughters!
I am also a work at home mom. I teach crochet beginners this amazing skill. You can find tons of free resources right here on the website and if you are looking for something that will give you a step-by-step path to learning crochet, you should check out my online school – The Crochet Academy.
But that's not all, I'm also the owner and operator of Itchin' for some Stitchin's shop, where I sell videos, guides, and patterns geared toward beginners.
Over 10 years ago I joined the Prayer Shawl Ministry at my church, where I learned how to knit and crochet. Since then you won't find me without a bag of yarn and hook or needles in hand! A year later my husband bought me the king of all sewing machines, a Husqvarna Designer Diamond Royale, and my love of sewing was born.
Thus, I am mainly a crocheter, you will find some knitting and sewing resources on this website as well.
I am a self-educated stitcher. I do occasionally get tips from my grandmother, who knits & crochets, or advice from my mom, who is an avid seamstress. But for the most part, I have taught myself each needle craft through books and hunting the great & powerful internet. I have found TONS of resources all over the place, but few resources all in one place that would help me grow from a stitching starter to an experienced stitcher. So I decided to do it myself.
That's how this blog got started, folks. I decided to put everything I know, have learned, and will learn about crochet, knitting, and sewing in this blog so it will be the #1 ultimate guide for learning these fabulous crafts.
This blog is designed to take you from a stitching newbie to a stitching expert!
Not an expert in the sense that you are the end-all, be-all, or know-it-all of stitching. But an expert in the sense that you have the skills and confidence to become known for your mastery of the craft and your beautiful stitch work. I can be a stitching expert. So can you!
What are you waiting for?
Join me on this adventure and let's become experts together. 🙂
Happy Crocheting!